Posted by:
Jason O'Grady
Date: Monday, May 7th, 2007, 10:10
Category:
Opinion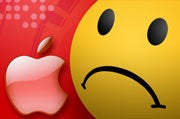 Hear, hear on #1 guys. Love ya 🙂
The company formerly known as Apple Computer and now called simply Apple, Inc. is unique in many ways–including in its ability to drive even folks who admire it positively batty. It makes great products (usually), yet its secretiveness about them borders on paranoia, and its adoring fans can be incredibly irritating.

Of course, its fans have to put up with some irritations, too: Simply being a member of the club still means you must endure unending jabs from the other side of the socio-political-techno aisle. But do they have to wear their suffering as a badge of honor?
PC World – 10 Things We Hate About Apple